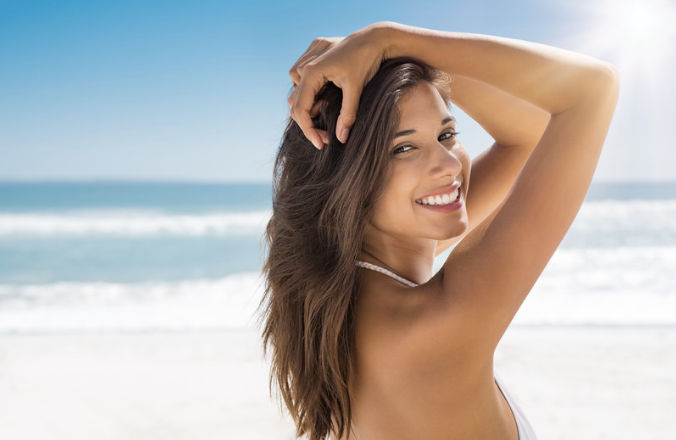 09 Jan

Wearing Sunscreen Over Makeup
How to Reapply Sunscreen over Makeup
We all know the importance of being sun smart, and how harmful UV rays can be to our skin, but many people do not know how to protect their skin adequately. Generally, everyone knows to apply sunscreen when outdoor activities are planned, like a beach day or a picnic. However, our skin is exposed to the sun more than we realise due to the UVA presence all year round and its ability to penetrate through clouds and glass. Therefore, applying sunscreen on a daily basis is important, though being truly sun smart does not stop there. Reapplying sunscreen throughout the day is vital to ensure you are protected from UV radiation all day, and this rule applies even when wearing makeup. So now we are faced with the dilemma of how to be sun smart whilst keeping makeup looking fresh. (read below for more details).
The Importance of Sunscreen to Stop Aging
You may have a lengthy skincare routine consisting of lotions and serums, but it is likely to be missing the most important anti-ageing product, sunscreen. The proper use of sunscreen in your daily routine can significantly assist in preventing premature aging.
UVA and UVB are ultraviolet radiation types that reach the earth's surface and contribute to sun damage to the skin. Specifically, UVA light has longer rays and penetrates the second layer of skin, damaging the collagen and elastin fibres that give our skin elasticity and strength, resulting in spider veins, skin thinning and fine lines. Melanin protects our skin from ultraviolet rays; therefore, if we allow our skin to burn, this will affect melanin production and lead to age spots and freckles over time.
UVA also increases free radicals, which cause damage to healthy skin cells and ultimately result in further damage to skin cells and collagen. Despite treatments and skincare being available to help reverse signs of damage and ageing, the number one step you should take is using effective suncare daily.
There is a direct correlation between sun exposure and wrinkles, so every day that skin is left unprotected, the risk of skin cancers and premature ageing increases. UVA is present all year round (yes, including winter) and can penetrate through glass, so our skin is exposed more than we realise, emphasising the importance of daily protection.
It is important to note that it is never too late to incorporate sunscreen into your daily regime, as it will help prevent further damage.
How Often Should you Apply Sunscreen
The rule of thumb is that sunscreen should be reapplied every two hours, especially after water exposure and extensive sun exposure. The best practice is to apply sunscreen 20- 30 minutes before going outside to allow the UV filters to absorb into your skin.
Sunscreen – Before or After Makeup?
The honest answer is both; applying sunscreen should be a part of every skincare routine and topped up after makeup. Sunscreen should be the last step in a skincare routine, and always allow a few minutes for it to absorb before beginning makeup application. It is crucial to choose a formula suitable for your skin type and ensure an ample amount of product is applied (approximately one teaspoon of sunscreen should be applied to the face and neck area). Remember that the face is not the only area that shows signs of ageing, so sunscreen should be applied to all exposed areas.
Sunscreen for Makeup
If you enjoy a natural "no-makeup, makeup look" that lets your skin breathe, using a tinted sunscreen in place of a heavier foundation will make protecting your skin a breeze. However, tinted sunscreen can be used both underneath and on top of foundation for extra coverage and protection. The Aspect Sun CC Cream SPF50+ both corrects and protects the skin, and although this will not achieve full coverage, your skin is receiving the protection it needs whilst creating an effortless glow (perfect for a day to day basis).
Applying Sunscreen over Makeup
You may be thinking, how can sunscreen be applied over makeup? Although we have established the importance of frequently applying sunscreen throughout the day, we have yet to explain how that is possible when makeup and day to day life are factors. Keep reading to find the tips and tricks for successfully applying sunscreen over makeup without ruining it.
The best sunscreen over makeup tip is to use a lightweight formula that will quickly spread and absorb into the skin, unlike heavy creams, which will require rubbing. A fantastic technique is to apply a small amount of sunscreen to the flat surface on a dry makeup sponge or clean hands, then softly pat it onto the face. It is crucial to make this application in small sections and avoid rubbing it into the skin.
To avoid caking and ruining makeup entirely, it is essential to only use this technique on light makeup, specifically cream-based products. When cream or liquid products are applied on top of powder, it may cause caking, so we recommend using a light mineral powder or sticking to an all cream base.
For easy application over makeup, our recommendation is the La Roche Posay Anthelios Invisible Fluid SPF 50+ 50ml. This formula delivers very high-level broad-spectrum protection and is non-greasy, non-comedogenic and fragrance-free, with an invisible finish.
Another method is the spray sunscreen spray over makeup, which has its individual benefits. It is an easy, portable and mess-free application and, like the previous technique, stick to a lightweight spray with an invisible texture. This trick will also add a beautiful glow and dewiness to the skin.
It is crucial to keep in mind that reapplying sunscreen over makeup will protect your skin on a day to day basis, but always be more cautious with prolonged sun exposure.
Finding the Right Sunscreen
By now, you know the importance of sunscreen in your skincare routine, but there are so many different types on the market that it can be hard to find the right one.
The most important thing to always remember is that your chosen sunscreen should have sufficient SPF (ideally 50+) and must be labelled broad spectrum to protect against both UVA and UVB rays. Ensuring that your sunscreen choice has a pleasing formula that agrees with your skin type is essential because, realistically, a product that is enjoyable to use will be easier to incorporate into your daily routine.
To make this choice easier, keep in mind these recommendations whilst looking for a new sunscreen (or seeing if your current choice is suitable):
Sunscreen for Sensitive Skin
The Aspect sun physical sunscreen is fantastic for sensitive skin types and for those who prefer a physical barrier rather than chemical filters. For those with sensitive skin, physical sunscreens which contain zinc oxide or titanium dioxide are less irritating than the usual chemical filter found in sunscreens. We also recommend avoiding products with fragrance or other additives that may be harsh on the skin, especially chemical sunscreen filters.
Sunscreen for Oily Skin
For people with oily or combination skin types, sunscreens that are lightweight with a matte finish are recommended as they help absorb excess moisture and will not leave a greasy residue. Sunscreens labelled oil-free or non-comedogenic are recommended to avoid clogging pores and breakouts. The La Roche-Posay Anthelios Anti-Shine SPF50+ Sun Cream is a dry-touch gel-cream that offers optimal sun protection with a matte finish.
Sunscreen for Dry Skin
Those with dry skin should always opt for formulas with hydrating and moisturising properties, like hyaluronic acid. A fantastic option is the Aspect sun hydrating face SPF 50+; the formula is enriched with antioxidants and has a silky texture, ideal for dehydrated skin.
Tips on Taking Care of Skin in Summer
Summer can take a toll on the skin. With heat, humidity, and pollution all playing a role in skin being a bit lackluster, it's extra important to be taking care of skin. Considering the damaging nature of UVA and UVB light, it is recommended to avoid extensive sun exposure, to wear a hat and sunglasses, stay in the shade and of course, use a broad-spectrum sunscreen with very high UVA/UVB protection such as SPF50+. Along with sun protection, below are a few tips to give skin some extra TLC during the summer:
Exfoliate your skin: The body sheds skin cells every day, and if they settle on your skin, it will create a dull appearance. Continue to do this 2-3 times a week for beautiful year-round skin.
Minimal Makeup: We advocate to opt for little or no skin makeup & invest in looking after skin. Eye makeup is a great accent, but heavy makeup on your skin can be suffocating, so it is best to avoid it when possible.
Stay hydrated: To ensure your daily water intake is the recommended eight glasses a day, try to carry a water bottle with you. Reaching the proper daily water intake will prevent dehydration and, of course, provide a lovely glow.
For more information regarding our approach to sun safe skincare, please don't hesitate to book a consultation with our doctor-led team to ask any questions or to find a sunscreen best suited to your lifestyle and skin.
And please don't hesitate to ask me any questions you have – I'd love to hear from you so we can start working together on a refreshed, healthy and confident you.
My best wishes and I hope to see you soon.